By Kamagata Eiichi from the original Gintama soundtrack. It's the background music to the snack shop that caters to old men. :P I found out this morning that my psychiatrist isn't in until tomorrow. So, her nurse is going to go over my records and talk to her over the phone. They told me they'll get back to me later, saying it will be soon. I still haven't gotten a response back, and that was early this morning. :( Hopefully they'll get back to me tonight.
I reviewed up to the middle of the し or shi section of the vocab. Went over some of the grammar again. Also, came up with 2 more sentences for the letter. There's actually 2 versions of this first sentence. Both are ok, but I like the 2nd version better. Here's the second one:
English: Do you have any pets? The other one was from the website I use, but it comes out more as a livestock or farm animal type question. The one I like more made a lot more sense to me. Next sentence:
English: My cat's name is Natasha.
Naruto Shippuuden just keeps getting better. They showed how Madara obtained the 'ultimate' Sharingan, and how he figured out a way to never go blind from using it. He gouged out and took his brother's eyes. O.O Over time, they evolved into something different. Eventually he formed the Akatsuki. Itachi wants to surpass him. He 'spared' Sasuke, after killing his entire clan, because he wanted to make his eyes stronger over time, and eventually take his eyes. (I think in order for it to work the other user has to be almost as strong with their Sharingan.) So, Itachi and Sasuke are fighting throughout most of these episodes. An awesome fight! (Knowing that they both use Genjustu or Illusion techniques.)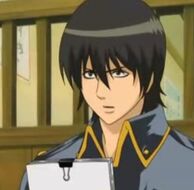 Gintama was hilarious, yet again! Finished the popularity poll arc. Apparently, Yamazaki was the one behind lowering everyone's ranking. He wanted to show what humans are really like when the become greedy. He thought no one deserved to be at #1. After Shinpachi knocks some sense into him, they both go up in rank to #1. When they do, everyone else picks them up and tosses them over the hotel roof. XD The ending of that episode had a montage of past characters. I had forgotten about some of them. :P It was cool to see. The next one was about Toshi trying to go to the Mayorin factory. Mayorin, in their world, is a brand of mayonnaise. If you don't know this yet, he's completely obsessed with it. He has it with everything or by itself. Pretty disgusting. The whole episode is like a parody on Charlie and the Chocolate factory. He forces the Sinsengumi to eat it, bathe in it, use it like toothpaste, use it as shampoo, etc. O_o After all that, he finally gets a chance to go, but it's not what he had hoped for. Just looks like a regular factory, instead of a place similar to Wonka's factory. Kind of funny. XD The next one was about alien bees. They look just like humans, except for their wings and stingers. They live in humongous hives, the size of a large house. Each hive has bees from different planets that landed on Earth. The Yorozuya (Gintoki, Shinpachi, and Kagura) are told by a monk to get rid of them. They end up killing all but one queen. The other bees get furious and say if they don't find that last queen, they'll destroy Earth. They find her, but just as they start to talk to her, all the other bees arrive. Since they don't understand the situation, all the bees attack each other. In the end the other queens show up, they had just been knocked out. Kind of sad, but funny at the same time. :P Gotta love Gintama for being able to do that in almost every episode.
In Hetalia, Russia's sister, Ukraine, is still looking for friends in the EU. Russia remembers what it was like when everyone lived in a big house called the Soviet Union. The only one left in that 'house' is Russia. Belarus comes back after leaving with her sister Ukraine, saying it just wasn't 'right' without him. Since Italy's and Russia's superiors are getting along well, Russia decides to try and become good friends with Italy. As he tries to, his sister Belarus pops up and scares them away. The 3 Baltic states aren't very close. But, one of them wants siblings. He's the one who purposely stays away from the other 2. :P Russia sends a letter to France's radio station asking what he can do to make people like him. France's response is to offer your love and he suggests a pick up line. XD Liechtenstein and Switzerland come to an agreement on tariffs. People are free to come and go between the 2. Switzerland deals with the immigration 'procedures' in both countries. He also starts to teach Liechtenstein some self defence strategies. (Liechtenstein is pictured above.) She doesn't really listen to his lecture because his drawings are too 'cute'. :P Japan and America try to get to know each other and become closer friends by visiting each others countries. Japan thinks there are strange desserts with weird colors and cakes named 'Devil's something' in the US. ^_^ Canada is holding a grudge against America, because of Cuba mistaking him for America. He tries to confront him, but is too scared to say anything. (It could be that America was wielding a saw around. :P)
I played a game called Kiwitiki: Flower Paradise. It was really trippy. O.O You're a kiwi (bird) running around trying to find all the flowers. The faster you go the higher the score. The really trippy parts were falling through the ground and walking inside walls where you can't see anything. It was oddly addicting. :P So, all caught up on the shows I watched. (And, no they weren't all in one day. :P)