Mood:

This was a couple of days ago, but yay for sushi!

I haven't honestly tried a lot of sushi. A lot of them I can't really eat. (Since I don't eat shellfish.) But, I do have a few faves. My top 2 are tekkamaki and kappamaki. Or, tuna rolls and cucumber rolls. They're awesome! I'm sure there are more I haven't tried, that some day might become another fave. I do like the special sushi rice itself, too.
On Tuesday, I switched what I normally would do on Wednesdays with stuff I would do for Tuesday. So, I went to the cafe then. On top of that, as soon as I got home, I was picked up again to go to a Hadassah meeting.

It was a bit busy. Managed to get to most things that day, though. The only big thing I didn't get to was playing my clarinet. Had a really tasty and strong hot chocolate there.
Not very many people showed up for the meeting.

Not much of a potluck either. Just a pea soup with croutons on the side, about 3 different types of tabbouleh, and homemade bread for dinner. Then, just 2 different types of brownie for dessert. Had some ok lemonade, too. But, there wasn't any 'substance' to it.

Maybe the bread, but that's really not a main dish. Oh well.
It seemed like a lot of members were a little 'off' that night too. Like they were tired of something about the group. Not really enthusiastic about much, and very sharp in attitude. Didn't feel as welcoming as it usually does.

Sure, there were a couple of us that were really into it, and not judgmental. But, that was just a couple.
We talked about the annual mahj tournament, and how to draw new members and old ones back in. The mahj tournament is a great fundraiser for us. So, even though I don't care for it, it's great.

But, apparently, a lot of people feel the way I do. Where our group has just become about mahj and mahj only. If you don't play, it turns you away from the group.

So, I put some suggestions out there, but didn't want to be the one to plan them out. Just to get things moving. One of them said, well why don't you plan or at least think out an event. It was weird. That's the other thing that will turn members away, is if you put pressure on them to do something they're not sure they'll have the time or the know-how for. Better to suggest something, have someone say they have experience with it, and have the time to step up and do it. Or, it helps others come up with something else that wasn't discussed. Just made me feel weird.

But, they did say I had a lot of great ideas. I liked the Jewish themed events, and suggested we do more of those. Also, suggested that maybe we should do some more just social things in general to get to know people better. Like go to a movie, a park, a game night (with other games), etc.
They also want me (more like begging me

) to be secretary again. I only stopped because it didn't seem like anybody cared at the time. Plus, the president would skip over me at almost every meeting. It just seemed like I was ignored. I don't really want that experience again.

I'd rather relax, talk to people, enjoy an event, etc. Not have to worry about what was brought up, what people felt, and all that other stuff.
Posted an Israel pic on Monday on deviantART. Starting to get back into posting them. I know it's been a while since the trip, but I never got around to posting the rest. Some of the pics look pretty impressive just because of the views. And, I want to share that.

Played some more of my clarinet. Really wasn't bad yesterday. Played some Gershwin and 'advanced' solo tunes. I was surprised at how well I did with the solos.

I was struggling a bit with them last time.
Edited chapter 7 and 8 of Alliance again. Another good couple of chapters. I'm starting to get back into really loving this story, ever since I got back into editing all the chapters again.
Typed up more of the You Maga article on living and parenting in America. Also, has tips on learning English. Very interesting so far.
Started reading Fairy Tail yesterday. Wanted to try it out, since I love the anime so much. The drawing style is a bit different than the anime, I think. More crude, I guess? It seems Happy changed the most in design. Even the Fairy Tail logo has changed a bit. But, interesting to see what it was all like before. Maybe there will be different side-stories as well. Sounds like a fun way to look at it.

日本語
Yesterday's kanji was:

歌

. Or: うた (uta), うた.う (uta.u), か (ka). I knew this one pretty well, but hadn't practiced writing it out much. It means: song, poetry, lyrics, to sing, to compose a poem, to recite a poem. Kind of a fun one.
Worked more on the original character meme. Zero's dream is coming out better than I expected. Also, started a drawing I've wanted to do since at least March. It's basically a representation of how I feel with my shoulder pain. I'll be crying, in a dress, with a wing coming out of my back. (Wing isn't fully 'grown' out. Like it's in the process of growing.) Perspective is from the side. Wings will be all bloody, and you can see parts of my bones on that side. It might be a bit bloody/gory, but I haven't felt peachy with this thing either.

Finished drawing out Anzu's face. Both her and Kenta look better than I expected. Still not quite what's in my head, but close. The last character on this sheet is Sahara. I'm hoping she'll look better than the last time I drew her.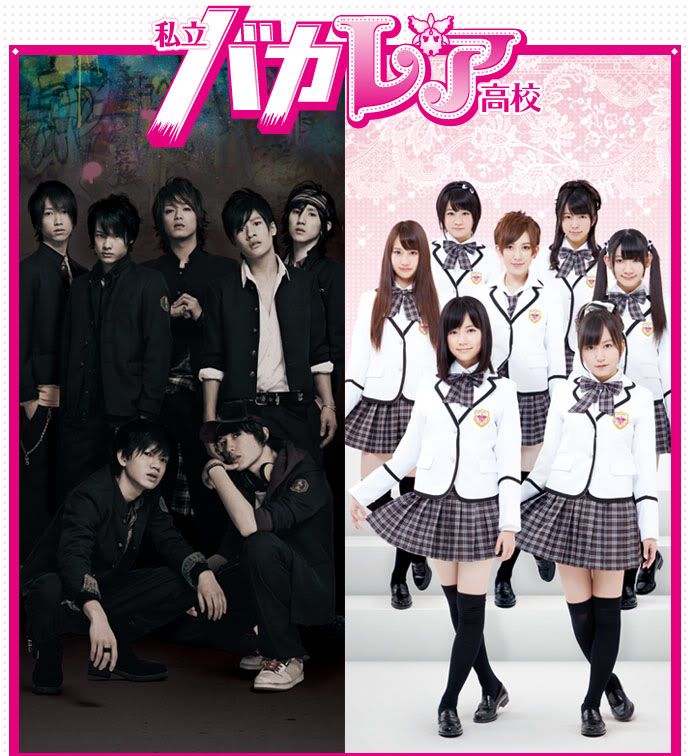 Since Mikeneko Holmes no Suiri hasn't been updated for a while, I started watching Shiritsu Bakaleya Koukou or Private Bakaleya High School, on Sunday. (I really loved that other drama!) The first episode of this one was pretty good. I thought it'd be lame. Especially, because it's a collaboration between 2 pop idol groups. Johnny's Jr. and AKB48. It was shot in an interesting way. Seemed very 'artsy'. The mood was interesting too. Bakada High School is known as a delinquent school for boys, where students only know how to fight. Cattleya (this seems like a hilarious name to me, for some reason...) High School is an exclusive girls' school meant for the rich, where students are very refined. One day it was announced that Bakada (now that I think of it, this is a funny name too. Baka is idiot) and Cattleya would merge into one school. Thus, the name Bakaleya. They don't get along with each other from the start. The girls kind of scare me. They look like they're from a cult or something. They didn't show much on them, so maybe the next episode will feature them more? Anyways, it's very interesting so far.
An awesome Fairy Tail amv:
One of the many hilarious scenes from Gintama:
Poor Gajeel. He should have started out with a cat like the other dragon slayers: